Are you still looking for online Best Websites for PPSC, FPSC Exam Preparation? Really, don't know how to prepare yourself for the PPSC, FPSC, NTS, CSS, and PMS Exam? If the answer to these questions is Yes. Then congratulations, because you landed on the accurate page.
Because today, we are going to discuss online Best Websites for PPSC, FPSC Exam Preparation. Moreover, we will offer such well optimized and unique material and notes for you people that will really help you in passing your above-mentioned tests.
As we know that many students can do something and have higher degrees with good percentage. But unlucky they don't have any job. Because they don't have proper guidance to pass their high-quality jobs. So, today we decided to offer you such a precious guide that will completely help you in passing your PPSC, FPSC, NTS, CSS, and PMS Exam.
So, Before getting deep dive into our specific discussion. It's important to glance at the abbreviation and the above-mentioned commissions that you are going to pass in near future.
Also Read:
Perfect Study Timetable for Students Before Exams
How to Get Good Grades in Exams in University ?
What is FPSC Exam?
FPSC is the abbreviation for Federal Public Service Commission. Federal Public Service Commission carries out an FPSC test for the recruitment of bureaucrats for serving the nation. The commission or FPSC stands for providing people information and services with transparency concerning the provision of civil jobs and public job positions.
What is PPSC Exam?
PPSC is the correct abbreviation for Punjab Public Service Commission. Punjab Public Service Competitive Examination (PPSC) is a provincial competitive examination in Punjab conducted by the Punjab Public Service Commission for recruitment to the various Civil Services of the Government of Punjab, including Punjab Administrative Service, Punjab Revenue Service, and Punjab Police Service.
Top 10 Online Best Websites for PPSC, FPSC Exam Preparation
After elaborating on PPSC and FPSC, now it's time to discuss the Top 10 Online Best Websites for PPSC, FPSC Exam Preparation. As well as these Websites are also great for the NTS, CSS, and PMS exams. However, If you decided to appear in the FPSC, PPSC, NTS, CSS, and PMS Exam then must prepare yourself on these Websites.
Go Test
Go test dot Pk Pakistan First Online Testing Website Where You can prepare Exams and test from 5th Class to 14th Class Subject Wise and Chapter Wise by Online. Not only this, Applicants who are seeking online test preparation to clear job tests, admission tests, or special service tests should attempt some mentioned quiz.
These tests are Multiple Choice Questions based on general knowledge. Aspirants attempt these GK Tests to pass any Competitive examination such as PPSC, AJKPSC, KPPSC, SPSC, BPSC, ISSB, PMS, FPSC, CSS, etc you can also prepare for all testing services like NTS, PTS, OTS, CTS, CTSP, CT Pak, ATS, ITS, ETEA, BTS, STS.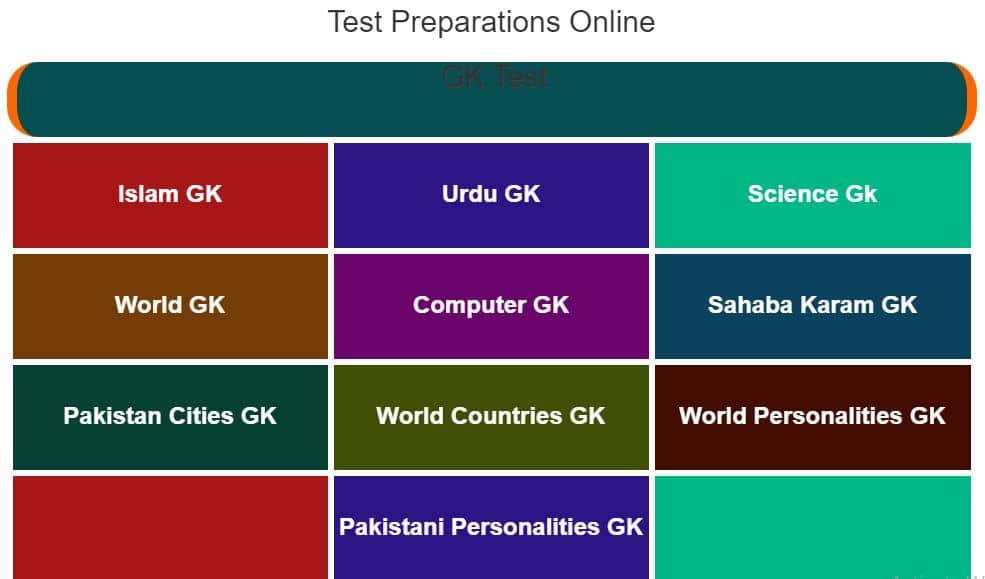 Individuals prepare for all admission tests of MCAT, ECAT, LAT, and Scholarship Merit tests. You Can Learn and Gain more Knowledge through this website as you want to gain according to your well and wish.
Lead Mcqs
Lead MCQs is a strongly suggested site for online test arrangements. This site contains inquiries as indicated by the past papers. It is a very much arranged site as per the subject-wise substance.
At the point when you will peruse an inquiry, it will show you four choices yet not the right response from the outset. A possibility for (View or stow away) answer is set under the four choices.
To begin with, you can think and surmise about the right response, and afterward can see the right response by tapping on the view answer button.
If you are going to prepare yourself for the PPSC, FPSC Exam Preparation and looking for the Best Websites for PPSC, FPSC Exam Preparation then this is a great one for you.
Pak Mcqs
PakMcqs.com is an internet-based entryway that is offering numerous decision questions and preliminary appraisals to people looking for occupations in Government associations/private associations.
We have a rich archive of most normal MCQs rejected from past evaluations, which are put together by its individuals.
PakMcqs immediately become Pakistan's most visited and confided in the entrance for test planning. The site is visited by more than 1 Million clients each month. This website is the best place to prepare yourself for the PPSC, FPSC, NTS, CSS, and PMS exams.
Jobs Paper
Most of the students just search for the more specific Website that is specifically designed to prepare them for the PPSC, FPSC Exam. Then this site is for all of them.
Because This website is providing PPSC & FPSC Jobs alerts and its Past Papers. Moreover, also provides Old papers, Old Solved Papers, general knowledge questions, and other helping material related to PPSC Test and FPSC.
Master Mcqs
MasterMcqs is one of the leading Mcqs-based websites in Pakistan. Our sole purpose is to help students prepare smart and score high in the various exams of PPSC, FPSC, NTS, CSS, and PMS Exam.
Moreover, MCQsMaster is one of the top Pakistani websites which shares useful MCQs for test preparation, Which are useful MCQs for PPSC, FPSC, NTS, and other job-related tests. And Most of the students who look for the Best Websites for PPSC, FPSC Exam Preparation, make their choice as Master Mcqs.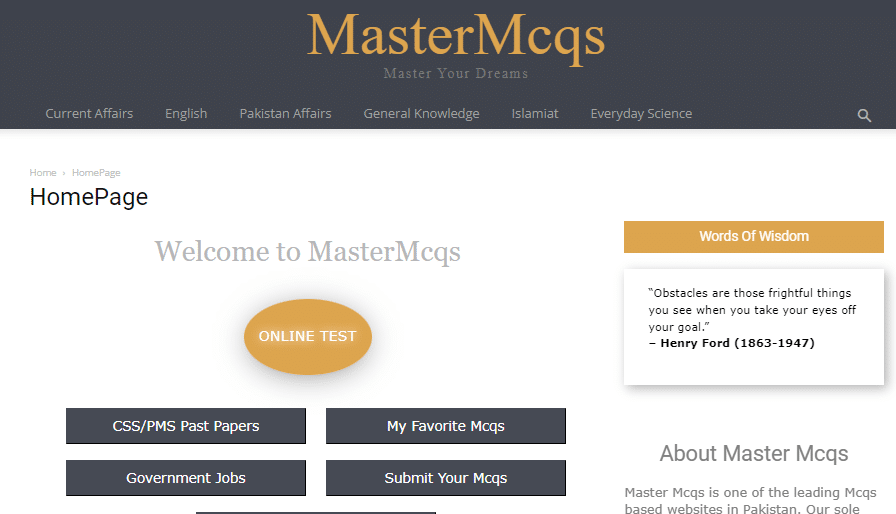 Mcqs Prep
McqsPrep was created with a mission to give "Basic, Innovative and refreshed Test Preparation for All Examination. It holds every one of the subjects that are remembered for CSS, PPSC, FPSC, and NTS.
They are offering different types of assistance liberated from cost just to share our insight and we trust it'll be extremely valuable for some individuals. They are a group of experts who are dealing with the refreshed substance inconsistently. Moreover, they depend on no other site or stage for credible and quality substance.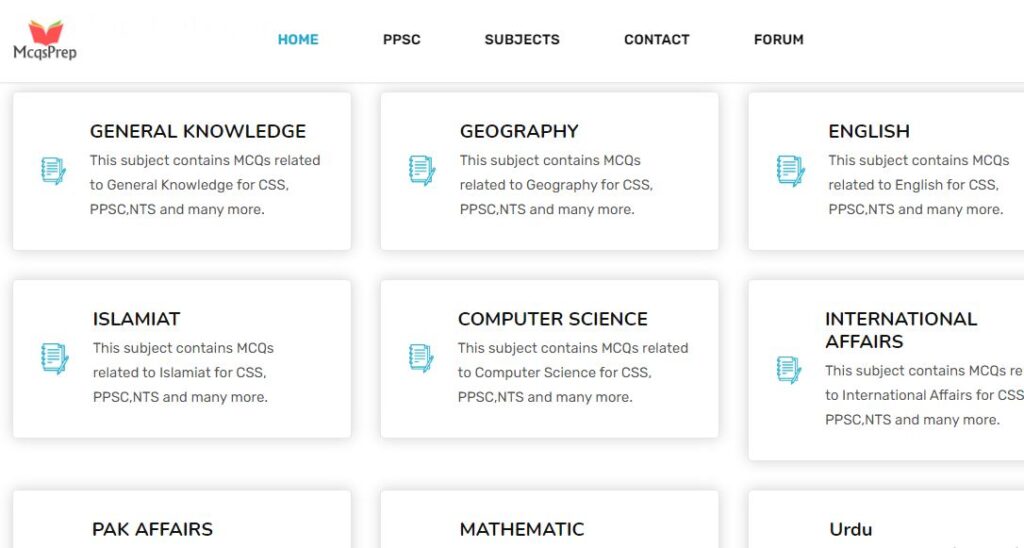 Help Now
This is a Local Website for exam preparation but if you will visit this website and its reviews about the content on this website then you will see how precious is the site. Furthermore, this site is offering services for different university data, and schools as well as CSS, PPSC, FPSC, and NTS preparation.
CSS Forum
This website is a complete resource for CSS competitive examination and knowledge about Pakistan civil service. The website specially serves as a free resource to help and guide CSS aspirants. With the addition of this CSS, many students who are eager to learn about PPSC, FPSC Exam Preparation then they also prepare themselves at this site.
Dogar Pk
This website is established in 1949, Dogar Brothers are one of the most seasoned distributing organizations in Pakistan. Their main goal is: "Adding to the progress of the greatest conceivable crowd through the accessibility of learning assets at a reasonable cost ".
To satisfy their central goal they are giving Higher Education Textbooks Competitive Exams' Guides, and Test Preparation Solutions.
Having a cross-country organization of merchants, sellers, and deal focus, they are adding to the progress of countless crowds in Pakistan. Further, their public and worldwide joint efforts help them in the headway toward their main goal. You can get a lot of knowledge for PPSC, and FPSC Exam Preparation from this website.
Prepinsta
Its primary mission is to make online training simple, vivid, and reachable to everybody. Giving assistance to the understudies who are in the period of learning and wannabe of getting an administration or planning for any serious test.
Their point is to give all the study material you really want for your planning with potential clarifications. Indeed, even you can clear your uncertainty by clarifying pressing issues. And also many other MCQs and general knowledge data for your different tests at this site.
Online Books for PPSC, FPSC Exam
Obviously, if you are looking for the Best Websites for PPSC, and FPSC Exam Preparation then you will also search for Online Books for PPSC, and FPSC exams. So, we are going to offer you online books to prepare your this exam.
Also Read:
Which University is Best for CSS Exam in Pakistan?
Top 7 Morning Habits of Highly Successful Students
Is Harvard University for Smarter Students?
Educated Pk
If you are you looking for PPSC/FPSC Test Preparation books PDF 2022 or Past Papers. They have some free Books for you for the preparation of the FPSC and PPSC Job test which includes Sample Papers, Past Papers, Papers Pattern, and Solved MCQs 2022 in PDF format.
The FPSC (Federal Public Service Commission) is a government agency responsible for hiring and administering the provincial civil services and management services in Punjab Province.
FreeSkill Pk
This is the best Website that is providing well-defined and best-written books for PPSC and FPSC exams. You must visit this website or the Below gave a link to download the books for your exam preparation.
Conclusion
At the end of this post, I confidently can say that these top 10 Best Websites for PPSC, FPSC Exam Preparation, and these PDF books will 100% assist you in your journey. Furthermore, you will attain a lot of knowledge from these websites for your PPSC, FPSC, NTS, CSS, and PMS Exam and for your bright future.